Engel & Völkers Intelligence
France
France, home of prestige real estate spanning from major cities to the sparkling Mediterranean Sea.
For 40 years, the Engel & Völkers network puts in contact sellers and buyers of prestige real estate properties all around the world. Our network of 700 real estate agencies located in 33 countries allows us to be a leader of the prestige real estate market.
Our commitment: Answer the requests of the most demanding customers.
Thanks to our franchise system and our 8500 real estate agents, we are the only german company ranked in the top 100 franchises companies in the world.
In France, our experts are in Paris, Cannes, Saint-Tropez & Saint Jean Cap Ferrat to guide you in your real estate projects.
Competence, engagement and exclusivity are our key values. We look forward to welcome you in one of our agencies, and have the possibility to present you our range of premium services.
---
Which are the most sought-after towns and region?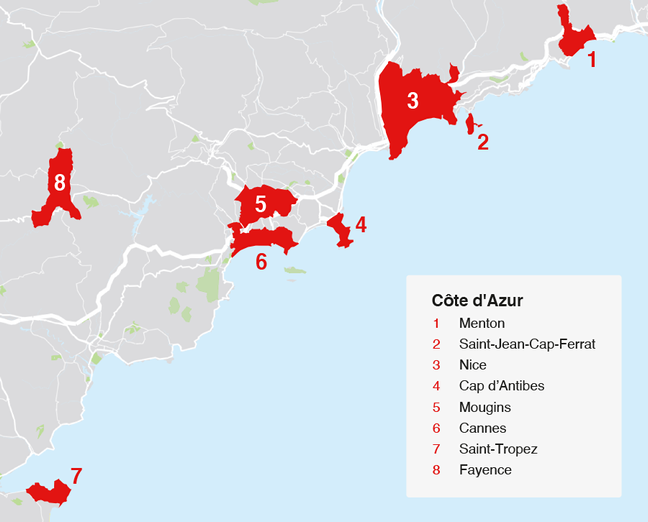 1. Menton 2. Saint-Jean-Cap-Ferret 3. Nice 4. Cap d'Antibes 5. Mougins 6. Cannes 7. Saint-Tropez 8. Fayence
The legend of Brigitte Bardot and the 1960s await in Saint-Tropez, along with the famous sailing yacht event "Voiles de Saint-Tropez". It is a mythical village with a picturesque harbour, alive from spring through to autumn. The Gulf of Saint-Tropez is generally less urbanised than the Alpes-Maritimes and this is precisely what attracts buyers looking for authenticity. Outside Saint-Tropez, the neighbouring villages of Grimaud, Gassin, Ramatuelle, La Croix-Valmer and Cavalaire are also highly sought after. The properties for sale there usually boast beautiful sea views. Sainte-Maxime, located between Saint Raphaël and Saint-Tropez, is also a very lively place all year round. Its proximity to Saint-Tropez is a real advantage. Sainte-Maxime is sought after by both the French and a clientele from northern Europe.
The area of Fayence and the Var region have certain attributes in common. They combine tranquillity and authenticity with abundant nature and more affordable prices. Charming villages like Lorgues, Callian, Mons and Fayence, each exuding the spirit of country life and Provence, have become the new fashionable destinations for the UHNWI clientele. They are also very popular with investors interested in wineries: The latest example is George Clooney, who acquired a vineyard in Brignoles this year, as well as celebrities like Brad Pitt, Angelina Jolie and George Lucas.
Menton is a pretty town that has retained its quaint village character and Italian influences. It is highly sought after for its proximity to Italy as well as Monaco, and enjoys an international reputation thanks to its annual "Lemon Festival".
One of the most expensive residential areas in the world, and often referred to as the "Cape of Billionaires", is the Saint-Jean-Cap-Ferrat peninsula. It is also often called the "Garden of Monaco", and this captures the advantages it offers: proximity to Monaco on the one hand and natural beauty on the other. In Saint-Jean-Cap-Ferrat there are beautiful properties, tranquillity and, above all, privacy to be found.
---
The Parisian real estate market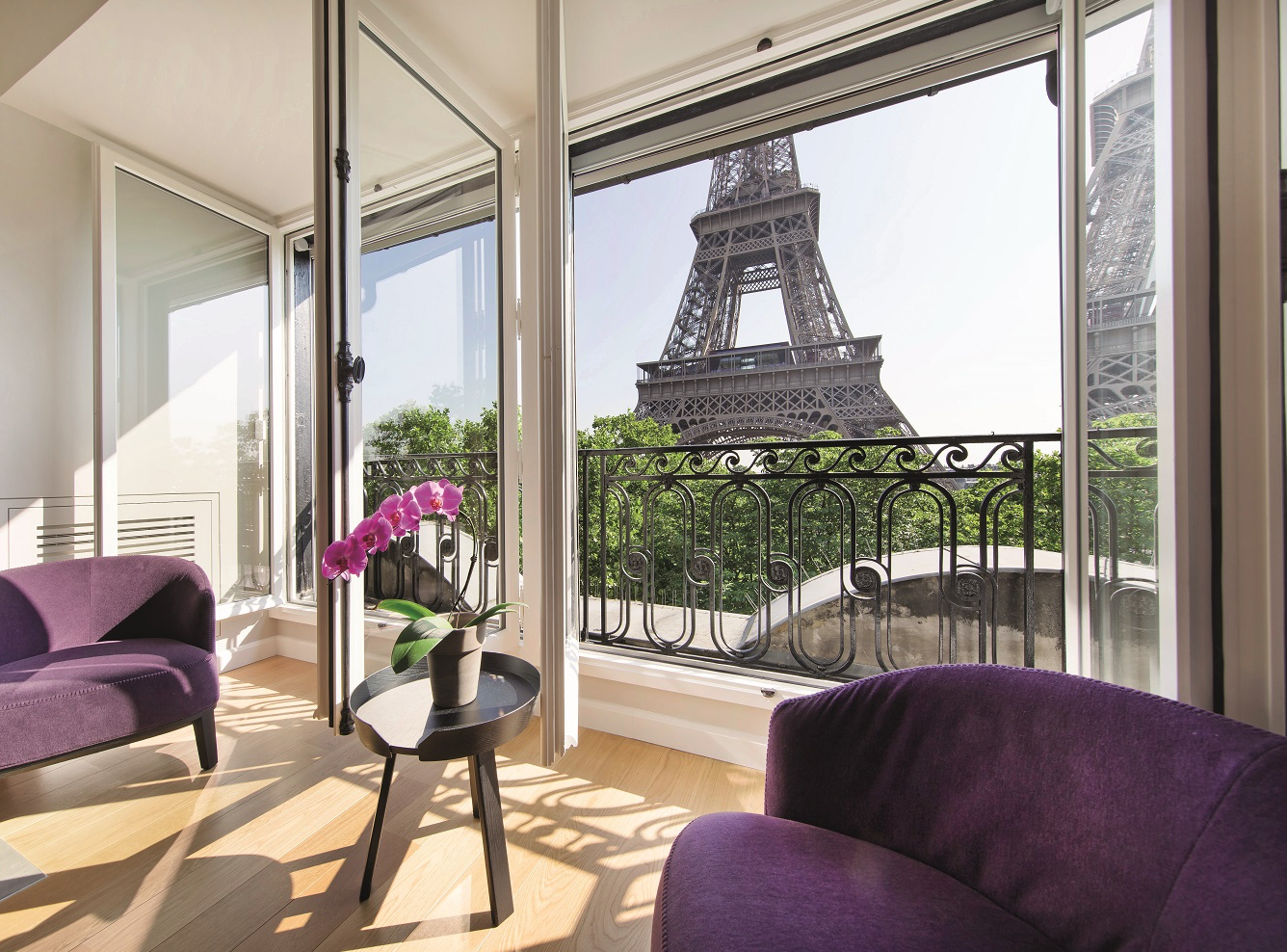 Paris's Arc de Triomphe, Notre Dame Cathedral, or the Louvre Museum – with its wealth of sights, historical architecture, and world-famous buildings, the French capital is more than just a tourist magnet. As one of the top three cities worldwide for ultra-high-net-worth individuals (UHNWI), Paris is popular among these affluent few both as a place to live and as a location for business and investment. The metropolis ranks high for its superb quality of life, its excellent leisure opportunities, and its unique architectural style, hence attracting buyers and investors from all around the globe. For many years, Paris has been a sought-after location among domestic and international clients for both first and second homes. The coronavirus pandemic has by no means diminished the appeal of Parisian real estate. On the contrary, interest has risen as time has gone on.

The most exclusive addresses in Paris are located in the 6th, 7th, 8th and 16th arrondissements. This year, selected top properties exchanged hands for as much as 10 million euros. Premium freehold apartments have been sold recently for top prices per square meter ranging from 27,000 euros to 33,000 euros in the 7th arrondissement. The average price of 10,900 euros per square meter in Paris is likewise relatively high. The domestic and international buyer groups in the Parisian real estate market account for 70 and 30 percent respectively, meaning French buyers dominate this market.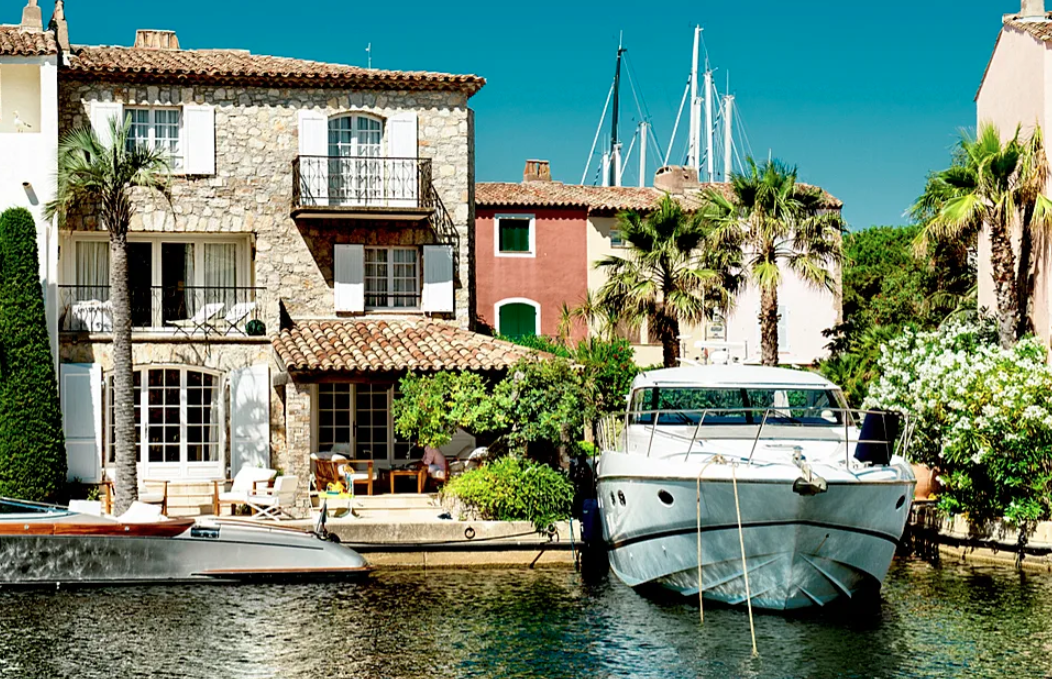 The French Riviera enjoys an exceptional climate of more than 300 days a year, proximity to ski resorts within an hour and a half allowing clients to ski during the day, dine by the sea the same evening before taking a plane back to Paris. Cannes for its dynamism, its international film Festival and fairs : MIPIM, Lions, etc. and unique walks along the Croisette. With an average price range for houses between 2 million euros and 5 million euros, the price range per square metre is very fluctuant going from 4,000 euros to 8,000 euros. The iconic Croisette can nevertheless reach more than 20,000 euros per square meter. Whether you are looking to purchase a "Pied-à-Terre" or a luxurious summer villa, real estate on the French Riviera remains a safe investment with flexible rental possibilities due to the dynamism and the international attractivity of the region.
The city of Nice enjoys a location that is remarkable and appealing for many reasons. Across the water from Corsica, which is visible on clear, sunny days, the city is set along the coast and extends up into the green hills behind. Its sheltered geographical setting makes Nice one of the warmest places on the French Côte d'Azur, even in winter. In terms of population, Nice is the fifth-largest city in France. Those who live here not only cherish life on the waterfront but also get to enjoy the city's rich architectural heritage and the diversity of its various museums.
Cap d'Antibes is a highly exclusive peninsula, internationally known for the famous "Hotel du Cap-Eden-Roc". This prestigious residential area is characterised by luxurious villas and magnificent apartments with breathtaking panoramic views of the sea and the surrounding hills. Lush parks guarantee homeowners plenty of peace and quiet. The peninsula is home to modern buildings in the Californian style as well as sophisticated villas dating from the 1930s or 1960s with traditional charm.
Not far from Cannes lies Mougins, a town that also has an abundance of greenery. Those who live in Mougins appreciate the natural and peaceful surroundings amidst beautiful villas and, at the same time, are only 10-15 minutes by car from the bustling life of Cannes. The town is also highly sought after for its cultural offerings and international schools.
In Cannes, it is often an address that you are buying: The "Croisette" boulevard, or the "Banana" or "California" districts with their magnificent villas in peaceful surroundings and incredible views from their raised plots. Cannes' assets include its international prestige, its luxury shops, and the numerous events that take place throughout the year. In addition, Cannes boasts sandy beaches – a fact that is by no means common on the French Riviera. Apartments in the center yield a very good rental return.
---
Unique property on the Cap d'Antibes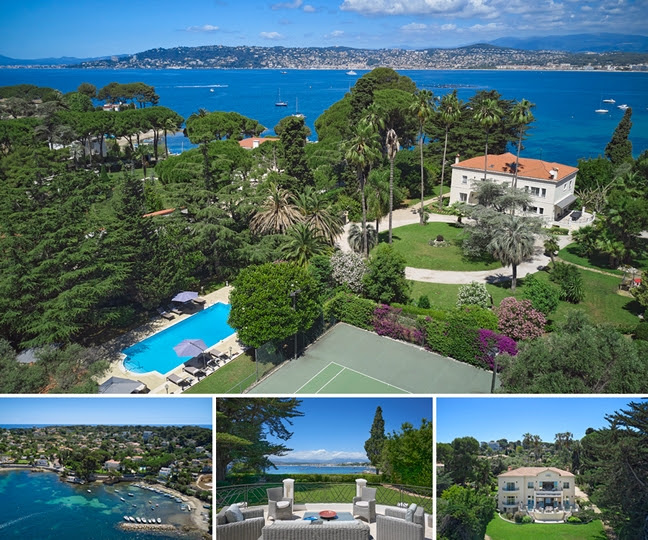 The most expensive property currently on the market with E&V Côte d'Azur is this prestigious 1930s waterfront residence. Located on the west coast of the famous Cap d'Antibes, close to the legendary Hotel du Cap-Eden-Roc, it truly makes a dream come true. The magnificent 10-bedroom villa exudes style and elegance. It is set in the midst of 8,200 square metres of well-maintained Mediterranean grounds, which also feature a tennis court and heated swimming pool. Right by the sea, but out of sight, this villa is just perfect for hosting a large family and several guests, events and receptions. The asking price is 29 million euros, equivalent to approx. 34 million US dollars.
Find Out More Here
GG France March 2022
For more information about the French market, please contact Private Office France: ines.pavlova@engelvoelkers.com - or call this number: +33 1 45 64 30 30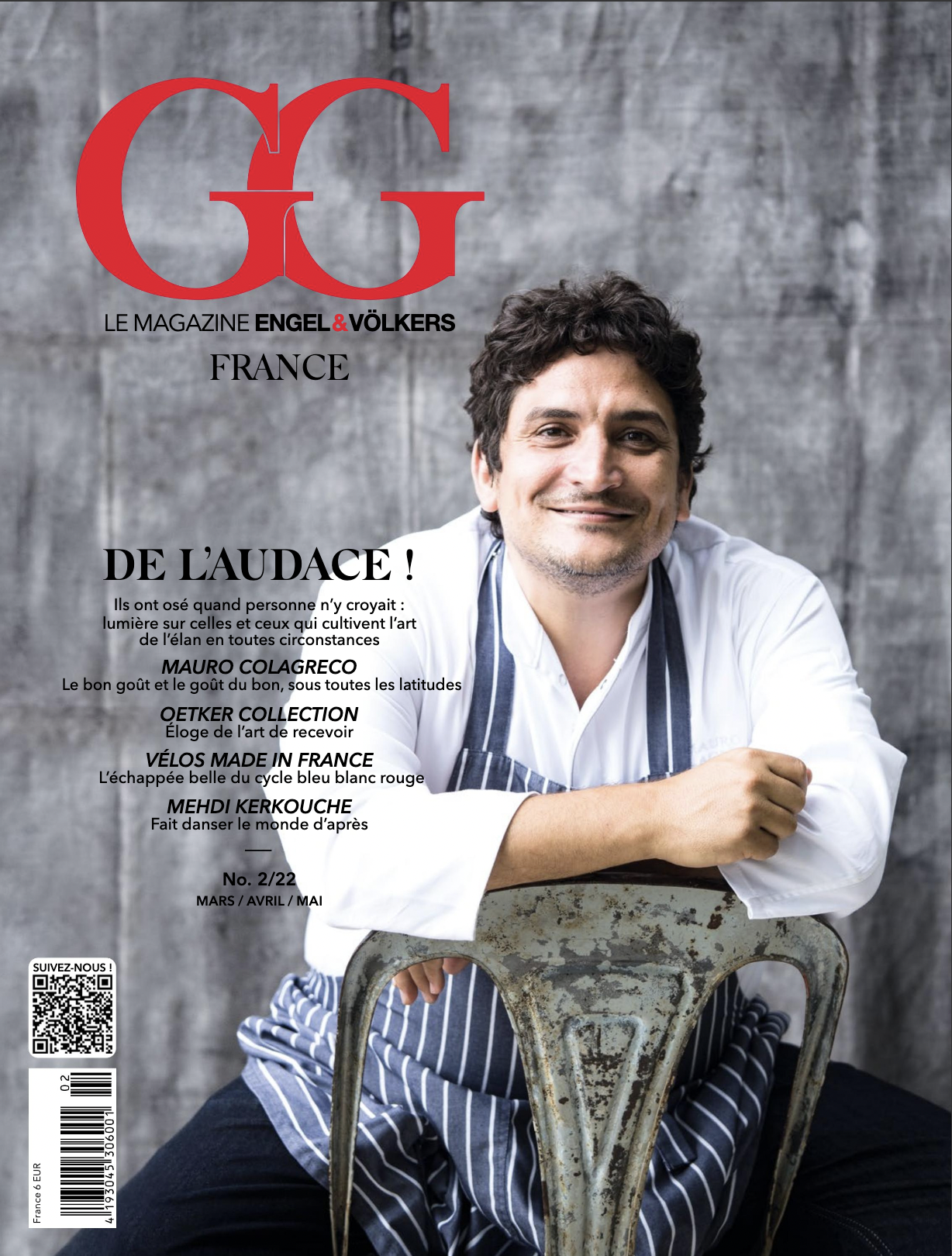 Learn more