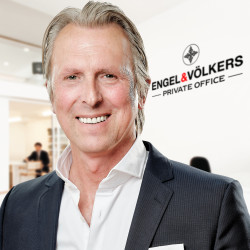 Sven Müller
Private Office Advisor
Engel & Völkers Kitzbühel GmbH
11 Vorderstadt, Kitzbühel, Tirol 6370, AT
Sven Müller - Private Office Advisor - Engel & Völkers Kitzbühel GmbH
Ever since I first read "GRUND GENUG" as a teenager, I have been completely fascinated by the company and, of course, the luxury properties associated with it. I decided to learn the profession of real estate agent in Düsseldorf from scratch, hoping to become an agent at Engel & Völkers later.

I have now been with the company for almost 20 years and have worked in one of the strongest markets in Europe. The market in Kitzbühel is particularly characterized by a very high price level and beautiful traditional architecture.

An incredibly stable and therefore economically interesting market for our customers. Due to the very high land prices, exclusive properties of 15 million are not uncommon.

Priorities are properties such as exclusive chalets in top locations as well as luxury apartments in and around Kitzbühel and to offer our customers absolute top service.
---
Highlights
International Buyers
Luxury Homes
New Construction
Resort & Second Homes
Vacation Homes
---
---
Engel & Völkers licence partner Kitzbühel / Legal notice
ENGEL & VÖLKERS Kitzbühel

Engel & Völkers Kitzbühel GmbH
Licence partner of Engel & Völkers Residential GmbH, Hamburg
Vorderstadt 11
A- 6370 Kitzbühel

Phone: +43 (0)5356 716-15
Fax: +43 (0)5356 716-15-14
Website: kitzbuehel@engelvoelkers.com

VAT number: ATU 54705109
FN: 218597 t*
Company register court: Innsbruck

Managing director: Florian Hofer / Maria Rauscher
Place of jurisdiction: Kitzbühel

Specialised section: Real estate and asset trustees
Member of the Austrian Federal Economic Chamber (WKÖ)

Professional code:
Trade Regulations Act: www.ris.bka.gv.at
District Commission Kitzbühel

Professional liability insurance:
Allianz Elementar Versicherung
Hietzinger Kai 101 - 105
A-1130 Vienna


General Terms and Conditions

1) We make offers based on the information we receive from our client. We cannot accept liability for its correctness or completeness. Errors and prior sale or lease may be expected.
2) Our offers are only destined for the recipients of offers. If they are passed on to third parties without our consent, the recipient of the offer will be required to pay the full commission if the third party who receives the agent's information, signs a contract.
3) We shall be entitled to render commissionable services relating to the other part of the contract.
4) Our right to commission shall not be affected, if another deal is made instead of the originally planned one (sale instead of lease or vice versa, purchase of a repossessed property etc.), if the commercial success does not deviate much from our offer.
5) If the recipient is already familiar with the property demonstrated by us, we must be notified in writing within five days. If a contract is signed, the commission/fees listed in the offers must be paid to us.
6) Austrian law shall apply, place of jurisdiction is Innsbruck.