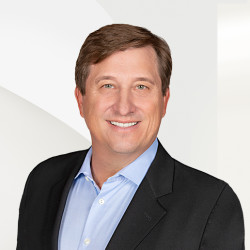 Jim Bruske
Private Office Advisor
Engel & Völkers Scottsdale Waterfront
7025 East Via Soleri Drive, Suite 125 Scottsdale, AZ 85251, USA
At Engel & Völkers, Jim Bruske is a proposed Private Office Advisor and talent rec alongside Gretchen Baumgardner, his long-standing business partner and friend, servicing Scottsdale Waterfront and the surrounding neighborhoods of Paradise Valley and Arcadia. Jim is also a global real estate advisor serving his clients in many capacities, whether it's brokering a land deal, finding properties for prospective buyers, or showing off the many wonderful attributes of the cities and towns across Arizona. As a realtor, Jim willingly takes on any challenge his clients present, be it moving from out of state, upgrading to a legacy property, or finding a home for empty nesters who are entering a new phase of their lives.

The Loyola State University graduate-turned-professional baseball player began his real estate career in 2001 after moving to Arizona. Following in his mother's professional footsteps after officially hanging up his cleats, Jim relishes in the relationships he's established over the years, and has helped hundreds of clients find the right home across the state of Arizona, sometimes reselling their same home later in life at a significant profit.

As a luxury home real estate advisor, he comes across clients with very particular needs and doesn't shy away from any opportunity to meet new people and assist them in finding their perfect home. While his title might imply that he only deals in luxury, that's not always the case. Jim readily works with clients at any price point as his main motivation is to find the right home to fit the needs and desires of every client he serves. He considers himself a full concierge realtor and goes above and beyond what one would imagine a realtor would do to sell a home, whether it's tending to gardening or making minor repairs in order to create the most ideal situation for everyone involved. To remain abreast of market trends and conditions, he is active in both the National Association of Realtors and the Scottsdale Association of Realtors.

As a former World Series Champion Yankee pitcher, Jim knows the value of dedication and hard work, and puts everything he's got into assuring his clients that they're getting the best possible outcome when searching for their perfect new home. Known for his friendly and outgoing nature, Jim enjoys meeting new people one on one and prides himself on being more hands-on and personable, really getting to know his clients so he can understand what they're truly interested in. He
---
Highlights
Commercial Property
Equestrian Properties
Golf Properties
High Rise Condominiums
International Buyers
Investment Property
Lots
Luxury Homes
Mid Rise Condominiums
New Communities
New Construction
New Homes
New Properties
Resort & Second Homes
Townhomes
Vacation Homes
Professional Athlete Advisory
---
---
Awards & Honors
In order to establish my career as a realtor, I became a member of the National Association of Realtors and the Scottsdale Association of Realtors. Because I still maintain a love for sports, I remain active in the Arizona Major League Alumni community and volunteer as a coach. I have coached several little league teams as well as Brophy College Preparatory's team, and I run baseball-training clinics for several different Little Leagues. I traded a baseball bat for a golf club and I think I do some of my best work on the links at Arizona Country Club where I also serve on the Board of Directors. Lastly, I am a lifetime member and past executive councilman for the Phoenix Boys and Girls Club of America.
---
Qualifications
Ever since I've been working as a realtor, I have helped hundreds of clients find their dream homes in Arizona. Right now, there is nothing else I would rather do. I love the constant communication with my clients, the challenge of negotiation, and the amount of joy and excitement that always shows on their faces once we've closed the deal.

I consider the biggest wins of my career to be finding great values for my clients. Nothing makes me feel more accomplished than finding a home for a client that not only meets all of their requirements but also fits well within their budget.

Many of my clients have also used my services again when they are ready to upgrade to a bigger and better home, or downsize as empty nesters. I've even helped past clients sell the house they bought from me at a huge profit. Being able to continuously help my clients over the years and see their families grow has been one of the greatest joys of being a realtor.
---
Credentials

I understand that there are thousands of real estate agents in Arizona. That's why I've worked so hard to become your best option when you're looking for a luxury home. My commitment to my clients and community is unparalleled. For example, I will happily give my clients tours of all the different Arizona cities to make sure we find the best fit for them.

Additionally, I make sure that I'm very accessible to my clients, which is why you can call me on my cell phone any day of the week. Whenever I'm awake, which is typically from 6am to 10pm, I'm ready to answer your questions and guide you into your dream home.
---
---
---
Jim Bruske
Engel & Völkers Scottsdale Waterfront
San Francisco Real Estate, LLC
7025 E Via Soleri Drive, Suite 125
Scottsdale, AZ 85251, USA
Phone: +1 602-768-3772
jim.bruske@engelvoelkers.com
https://scottsdalewaterfront.evrealestate.com/