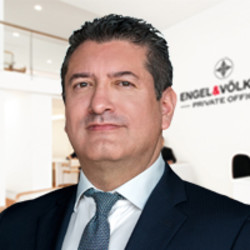 Eddy Barrera
Private Office Advisor
Engel & Völkers Mallorca West Coast
4 Carrer de Bauçà, Sóller, Illes Balears 07100, ES
Private Office Advisor in Mallorca
Manager and Agent in Real Estate

Eddy Barrera is an experienced real-estate advisor, multi-tasked and multi-
cultured. He is knowledgeable about real estate conditions in the region, and
highly-skilled at matching families or individuals to properties. He is also a good
listener and advisor, as he and his wife have lived in the area for a number of
years, and their two children have grown up and studied locally.

Eddy was born in Colombia, raised in Colombia and in Germany, where he
completed a B.A. and an M.A. in Political Sciences at the School of Frankfurt.
He also earned an advanced M.A. at Leiden University in Holland. He is fluent
in Spanish, German and English. Eddy is friendly and outgoing, and you are
bound to feel at ease with him, because he loves his job and does it well.
---
Highlights
International Buyers
Luxury Homes
Multi-Generational
New Construction
New Properties
Oceanfront Homes
Resort & Second Homes
Townhomes
Vacation Homes
---
---
Qualifications
2000 Advanced Master in Asian, African and Amerindian Studies, Institute for Asian, African and Amerindian Studies (CNWS), University of Leiden, The Netherlands.
1998 Master Degree in Political Science, Sociology and Pedagogy, M.A. (Magister Studium), Johann Wolfgang Goethe University, Frankfurt am Main, Germany.
---
---
BALEARICS PROPERTY PARTNERS SL
Licensee of Balearev GmbH
Archiduque Luis Salvador, 1
07179 Deià Mallorca - España
Tel.: +34 971 636363
E-mail: deia@engelvoelkers.com
CIF B-57632063
Inscrita en el Registro Mercantil de Palma de Mallorca, Tomo 2.397, Folio 166, Hoja PM64.530