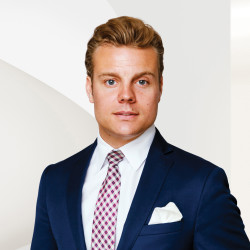 Björn Meins
Private Office Advisor
Engel & Völkers Immobilien GmbH
Germany, Hamburg, Hamburg, DE
Born and raised in Hamburg, Björn Meins has always enjoyed bringing people together and that is exactly what he has got to do in his dream job as a real estate agent. After starting his career in the international export trade, including a post in Malta, he joined the Engel & Völkers Hamburg Elbe team in 2017. Besides his passion for elegant properties, it is selling emotions and sharing personal experiences with his clients that make being a real estate agent his absolute dream job. Björn Meins is justifiably proud of the strides his career is taking in his home city of Hamburg, as he is well on the way to becoming one of the most successful agents in Europe.

Björn Meins assists and advises his clients in their quest for their ideal home – both in the HafenCity quarter and in the so-called Elbe Suburbs. He is particularly fascinated by Hamburg's traditional Hanseatic flair, contrasted by the new modern face of the city. The area he works in also includes apartments in the world-famous "Elbphilharmonie" concert hall, as well as penthouses in many other of Hamburg's most striking architectural landmarks, often overlooking the River Elbe. Björn Meins himself lives in the renowned STRANDHAUS by Richard Meier in the HafenCity, which is also home to Engel & Völkers headquarters. He knows this area more intimately than practically anyone else, and there is no building in the vicinity that he hasn't set foot in. Very often his clients are also his neighbours, acquaintances and friends, and he is always more than happy to offer his advice and assistance around the clock. Alongside his expertise about the local area and his shrewd sense of prices and trends, he also most definitely has a good nose for real estate. Björn Meins works closely with many other partners, including some famous names such as the world-renowned architect Hadi Teherani. His large network includes various internationally known clients from the worlds of business, culture and sport.

Loyalty, expertise and integrity are the qualities that clients value the most when working with Björn Meins. As a real estate agent, he particularly enjoys supporting his clients as they take life-changing steps with the sale or purchase of a property. He always takes the time to listen intently to the needs of his clients and is passionate about giving them the very best support possible.
---
Highlights
Oceanfront Homes
High Rise Condominiums
Vacation Homes
City Center Properties
Investment Property
Luxury Homes
New Homes
New Properties
---
---
Awards & Honors
Multiple Top Real Estate Agent Awards
Top 10 Real Estate Agent: 2020, 2021, 2022 and 2023
---
Qualifications
Internationally trained trader
---
---
Engel & Völkers Immobilien GmbH
Vancouverstraße 2a
D-20457 Hamburg
Phone: + 49- (0) 40 987 63 53 33
Email: Elbe@engelvoelkers.com
VAT ID no.: DE 211114704
Commercial register number: HRB 76917 Hamburg District Court
Management: Kai Enders, John Philipp Niemann
Licensee of Engel & Völkers Residential GmbH, Hamburg
Supervisory Authority: Permission according to § 34c Gewerbeordnung (GewO, "Trade Regulation Ordinance") assigned by:
Bezirksamt Hamburg-Mitte Fachamt Verbraucherschutz,Gewerbe und Umwelt-Gewerberecht und Marktwesen, Klosterwall 2- Block A, 20095 Hamburg, Phone: +49 40 42854-4705 Phone: +49 40 42854-4720, Fax: +49 404279-08070, Email: Gewerberegister@hamburg-mitte.hamburg.de
Professional regulation:
§ 34c GewO: The professional regulation can be viewed and accessed via the website www.gesetze-im-internet.de operated by the Federal Ministry of Justice and juris GmbH.
Editorial responsibility according to § 18 para. 2 MStV:
John Philipp Niemann, c/o Vancouverstraße 2a, D-20457 Hamburg, Germany.
Consumer information on alternative dispute resolution (Art 14 (1) ODR Regulation) and § 36 VSBG (German law on the settlement of disputes)
The European Union's Internet platform for online dispute resolution (so-called "ODR platform") for consumers can be accessed via the following link: http://ec.europa.eu/consumers/odr.
We do not participate in dispute resolution proceedings before a consumer arbitration board.
Email: Elbe@engelvoelkers.com
General Terms & Conditions
1. The brokerage contract between the client and us shall be concluded by written agreement or by agreement in text form. If no other arrangements follow from other agreements, the contract with the seller or the lessor has a term of six months and shall be extended automatically for another month unless it is terminated in writing or in text form by one of the parties no later than four weeks prior to the end of the contract.
2. During the term of the brokerage contract, the client shall not be entitled to commission other brokers with referral and/or brokerage services relating to the property covered by the contract. In case of culpable violation of this provision, the client is liable for the damage thereby incurred in accordance with statutory regulations.
3. Our referral and/or brokerage services are rendered on the basis of our appointment by our contractual parties or details and information provided by other authorized informants. No liability is assumed for this. Errors and/or prior sale or lease may be expected.
4. We shall be entitled to render commissionable services to the other party of the principal contract, provided there is no conflict of interests or legal exclusion.
5. Our entitlement to the commission shall not be affected if, through our referral and/or brokerage services, a rental, leasing or similar usage agreement for the property covered by the contract is concluded between the parties of the principal contract instead of the originally desired sale agreement, as long as no legal exclusion applies. In this case, the standard brokerage according to Sec. 653 Para. 2 German Civil Code shall be considered owed.
6. If at the conclusion of the brokerage contract the client has knowledge of a contractual opportunity with regard to the offered property as well as the contractual readiness of the other contracting party to the principal contract (prior knowledge), or if they acquire this knowledge from a third party during the term of the brokerage contract, they must notify us of this immediately.
7. Our property descriptions, the property- and contract-related information provided by us and all of our referral and/or brokerage services are intended only for the addressed client as the recipient in each case. Upon conclusion of the brokerage contract, the client is obliged to keep all details, etc. confidential and not disclose them to third parties. If the client culpably violates this provision, they will be liable for damages if as a result our referral and/or brokerage services are not successful. If the principal contract is concluded with a third party as a result of an unauthorized disclosure of information to this third party, the client shall be liable to us for the payment of the lost commission.
8. The commission is payable as per Sec. 652 Para. 1 of the German Civil Code upon conclusion of the effective principal contract if the principal contract is based upon our contractual referral and/or brokerage services. The client is obligated to immediately notify us when, for what compensation, and with which parties the principal contract was concluded. This duty to provide information shall not be affected by the fact that the principal contract is subject to a condition precedent, and that this condition has not yet occurred.
9. The client may validly assert retention or set-off rights against our commission claim only if the client's demands are based upon the same contractual relationship (brokerage contract), or if other demands are undisputed or legally established.
10. We do not participate in dispute settlement proceedings before consumer arbitration boards.
11. The place of jurisdiction for any disputes arising from the contractual relationship (brokerage contract) shall be the registered office of the sales agent, insofar as the client is a merchant, a legal entity under public law, or a special fund under public law. If the client is a consumer (Section 13 BGB) who does not have a general place of jurisdiction in the Federal Republic of Germany, the registered office of the sales agent shall also be the non-exclusive place of jurisdiction. If the client (consumer) relocates their place of residence or habitual residence outside Germany after the brokerage contract has been concluded, or if the client's place of residence or habitual residence is not known at the time of legal proceedings being initiated, the place of jurisdiction shall also be the registered office of the sales agent. Exclusive jurisdictions, in particular for the court dunning procedure, remain unaffected by the aforementioned provisions.