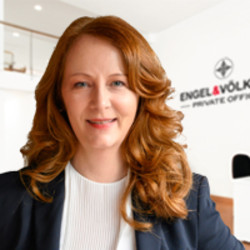 Birgit Schulz-Stöcklin
Private Office Advisor
Engel & Völkers Deutschland Immobilien GmbH
Gerhardshainer Straße, Königstein im Taunus, Hessen 61462, DE
Business Graduate / Senior Estate Agent / Certified Feng Shui Consultant
Birgit has been with Engel & Völkers for almost 8 years, quickly rising to being one of Europe's most successful agents for the company.

Coming from a family with real estate background she developed a passion for beautiful properties early on. Birgit started her profession career after her apprenticeship at a swiss bank. She majored in Business Management and Finance in Germany and France, graduating from the university of Trier, Germany. After a stint in Kuala Lumpur at the German-Malaysian Chamber of Commerce she worked as an analyst for the FAZ-Institute in Frankfurt. The following years Birgit spent time focusing on her family and four kids. In 2010 she decided to follow her passion by going into real estate. She lives with her family in Königstein, just outside Frankfurt. She enjoys cooking with her family, gardening and travelling the world. Furthermore, Birgit is a certified Feng Shui consultant.

For more than a decade high end real estate has been her passion with architectural gems being her specialty.

Local and international clients value Birgit's knowledge as well as her discretion and trustworthiness.
---
Highlights
Rental
International Buyers
Investment Property
Luxury Homes
New Construction
New Homes
New Communities
New Properties
Townhomes
---
Languages
German
English
French
Mandarin
---
Awards & Honors
Top 10 Real Estate Agent (EMEA)
---
Qualifications
Business Graduate, University of Trier, Germany

Certified Feng Shui Consultant, International Feng Shui Academy (IFSA), Germany
---
Imprint

Imprint

Engel & Völkers Immobilien Deutschland GmbH


License partner of Engel & Völkers Residential GmbH





Headquarters:


Vancouverstr. 2a


D-20457 Hamburg





Managing Directors:


Internationaler Dipl.-Betriebswirt (GM) Florian Freytag-Gross, Katrin Plumpe, Sven Odia, Birgit Pfeiffer, Holger Kohlenbach.





Contact:


Phone: +49 40 36 122 887

E-mail: Lizenzholding@engelvoelkers.com




Local court: District court Hamburg


Registered number: HRB 156299


VAT identification number: DE294608227





Supervisory authority:


District Office Hamburg-Mitte, Consumer Protection Department,


Trade and Environment, Trade Law and Markets Department


Caffamacherreihe 1-3, 20355 Hamburg, Phone.: +49 (0) 40-428 54 47208991,


E-mail: gewerberegister@hamburg-mitte.hamburg.de


Public liability insurance / Liability for pecuniary loss:
Hiscox SA
Branch office for Germany
Arnulfstraße 31
80636 Munich
Registered in the commercial register (HRB) of the local court of Munich of HRB 238125.




Consumer informationen on alternative dispute resolution (Art 14 (1) ODR-VO and § 36 VSBG)


The internet platform for online dispute resolution (the so-called "OS platform") for consumers is available at the following link: http://ec.europa.eu/consumers/odr


We do not participate in dispute settlement proceedings before a consumer sacking agency.