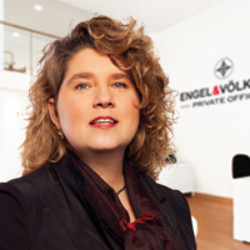 Anja Beck
Managing Partner; Private Office Advisor (de/fr/en/it)
Engel & Völkers Zug
15 Neugasse, Zug, Zug 6300, CH
Anja is the managing director of the team at the E&V Shop in Zug (with the lowest cantonal tax rates in Switzerland) and is further responsible for the entire Canton Zug and the District of Küssnacht am Rigi/canton Schwyz (both cantons offer a lump sum deal tax).

Engel & Völkers Zug are brokers for single-family homes, condominiums, investment properties, land, projects and rental of condominiums, both rentals and sales. One of our strengths is that we tailor-make an exclusive search mandate based on the specific requests and needs of each individual customer.

Would you like to know the market value of your house or apartment? We will send you a market price assessment. Our team speaks 6 languages.
---
Highlights
Commercial Property
High Rise Condominiums
International Buyers
Investment Property
Lots
Luxury Homes
New Construction
New Homes
New Properties
Property Management
Rental
Townhomes
---
Languages
English
French
German
Italian
---
---
Engel & Völkers Zug

E&V Zug Properties AG
Licence Partner of Engel & Völkers Wohnen Schweiz AG
Neugasse 15
CH-6300 Zug

Phone: +41-(0)41-728 77 11
E-Mail: zug@engelvoelkers.com
 
HR-number: CH-111.654.293; HR-departement: Canton Zug
Place of business: Zug



1. Online Content

The author assumes no responsibility for thetopicality, correctness, completeness or quality of information provided.Liability claims against the author relating to material or immaterial damagescaused by the use or misuse of theinformation or the use of incorrect or incomplete information are excluded,unless the author is intentionally or grossly negligent.

All offers are non-binding. The author reservesthe express right to change parts of pages or the entire offer without priornotice, and add to, delete or cease publication temporarily or permanently.

2. References and links

With direct or indirect references to otherwebsites ("hyperlinks") which lie outside the responsibility of the author, liability would only apply in cases in which the author has knowledge of thecontent and it is technically possible to prevent illegal use of content.

The author hereby expressly declares that at thetime of linking, no illegal content on the pages has been identified. Theauthor has no influence as to the current and future design, contents orauthorship of the linked / connected pages. Therefore, he distances himselffrom all contents of all linked / connected sites that were changed after thelinking. This statement applies to all within its own Internet links andreferences as well as for foreign entries in guest-books, discussion forums,link directories, mailing lists and in all other forms of databases to whichexternal access is possible. For illegal, incorrect or incomplete content andespecially for damages from the use or disuse of suchinformation, the responsibility lies solely with the provider of the page, andnot with the provider of the link.

3. Copyright and trademark law

The author endeavors to respect the copyrightsof the graphics, sound files, video sequences and texts, and to use his owngraphics, sound files, video sequences and texts or to use license-freegraphics, sound files, video sequences and texts.

The provisions of applicable trademark law andthe ownership rights of the copyright applies to all mentioned and possiblyprotected third parties of Internet brand names and trademarks. The meremention does not draw the conclusion that trademarks are not protected by thirdparty rights!

The copyright for published objects created bythe author remains solely with the author. Any reproduction or use of graphics,audio and video clips and texts in other electronic or printed publications isnot permitted without the express permission of the author.

4. Restrictions on use

If it is possible to enter personal or business details (e-mail addresses, names, addresses) via this website, users expressly provide such data voluntarily. Usage and payment of all the services offered is subject to a fee, even if this is done without supplying such data and/or by providing anonymised data or a pseudonym, insofar as it is technically feasible and reasonable to do this. Third parties are prohibited from using contact details provided in the site notice or comparable particulars – such as postal addresses, telephone/fax numbers and e-mail addresses – to send information which has not been explicitly requested. The company expressly reserves the right to take legal action against senders of so-called spam e-mails who violate this ban.

5. Legal validity of this disclaimer

This disclaimer is to be regarded as part of theinternet publication which you were referred to on this page. If sections orindividual formulations of this text are no longer legal or do notcompletely correspond to the remainingparts of the document in their content, the validity of the rest of the document remains unaffected.