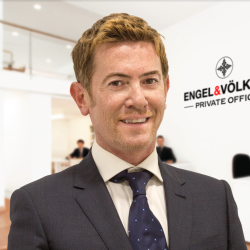 Angelo Miceli
Private Office Advisor, Paris
Engel & Völkers
24 Rue de Berri, Paris, Île-de-France 75008, FR
Born in Rome, Angelo has acquired a great international expertise while living in Madrid, London, Dubai, New York and Paris.

He joined Engel & Völkers in December 2016 and has succeeded to become one of the top performing advisors. He has been part of the Private Office network since its very beginning.

Angelo is interested in luxury codes, enjoys traveling and discovering new cultures and exceptional places and is passionate about reading. He is also a professional piano player.

Angelo would be more than happy to accompany and assist you in your confidential home search.
---
Highlights
International Buyers
Luxury Homes
Oceanfront Homes
Resort & Second Homes
Vacation Homes
---
Languages
English
French
Italian
Spanish
---
Qualifications
Legal studies
Real Estate
Piano
---
---
MENTIONS LEGALES

La poursuite de la navigation sur ce site vaut acceptation sans réserve des dispositions et conditions d'utilisation qui suivent. La version actuellement en ligne de ces conditions d'utilisation est la seule opposable pendant toute la durée d'utilisation du site et jusqu'à ce qu'une nouvelle version la remplace.




Informations légales


Site (ci-après « le site ») : www.engelvoelkers.com/fr-fr/paris

Éditeur (ci-après « l'éditeur ») : EV MMC France SAS, au capital de 6 301 500 euros, dont le siège social est situé au 24 bis Rue de Berri, 75008 Paris, immatriculée au RCS de Paris, numéro SIREN 808 801 955, représenté par Monsieur David Scheffler en sa qualité de Président.

Titulaire carte transaction et gestion N° CPI 7501 2015 000 002 592 délivrée le 24/02/2020 par la CCI de Paris-Île de France.

Numéro de téléphone : 01 45 64 30 30.

Adresse de courrier électronique : paris@engelvoelkers.com

Directeur de la publication : Antoine Guillemin

Conception et réalisation : Engel & Völkers IT-Services Gmbh

Hébergeur (ci-après « l'hébergeur ») : Engel & Völkers IT-Services Gmbh, dont le siège social est situé Stadthausbrucke 5 D-20355, N° TVA : DE 247 073 558, N° de registre du commerce : HRB 95747 Tribunal d'instance de Hambourg, représentée par Norbert Schmidt-Banasch, en qualité de Gérants.

Numéro de téléphone : +49 40 36131200

Adresse de courrier électronique : info@engelvoelkers.com

Si vous avez un problème concernant un bien ou un service vendu en ligne, vous pouvez utiliser le site suivant pour essayer d'obtenir un règlement extrajudiciaire : https://ec.europa.eu/consumers/odr/