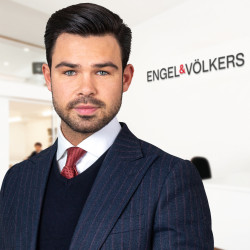 Andreas Raftopoulos
Private Office Advisor
EuV Projekte Berlin GmbH
10623 Berlin, Germany
Sales Agent at Engel & Völkers Development Services Berlin
Andreas Raftopoulos holds a Bachelor's degree in Economics and a Master's degree in Real Estate Project Management. His distinctive experience in selling projected properties he gained during the past 10 years – mostly at Engel & Völkers.

Engel & Völkers Development Services is specialised in the sale of high-quality condominiums in old and new building projects in Berlin and its surrounding area. It also acts as a competent partner for property developers and builders and accompanies the building project from planning to handover.

Berlin is a metropolis with the unique charm of various districts, multicultural lifestyles and an unbroken popularity. As the centre of German history, it is filled with landmarks and a wide range of art & culture. Many international investors and start-ups have settled here, as Berlin is one of the most dynamic real estate markets in Germany with a constant upward curve of purchase prices regarding land, condominiums and apartments.

AM TACHELES / pwr development / Herzog & de Meuron, Grüntuch Ernst Architekten, Brandlhuber Muck+ Petzet

OE Koenigsallee / brixx / Axthelm Rolvien

Mulberry Yards / Adam Europe / Tchoban Voss Architekten

Linien 72 / Ralf Schmitz / Sebastian Treese

Kaiserdamm & Mommsen / Patzschke & Partner

Auguste-Viktoria / Primus Immobilien / Wiegand | Hoffmann
---
Highlights
City Center Properties
International Buyers
Luxury Homes
New Construction
New Homes
New Properties
---
---
Awards & Honors
Engel & Völkers Top Agent Awards:
2017 EMEA 1st place, number of sales
2018 EMEA 1st place, number of project sales
2019 EMEA 4th place, number of sales
2020 EMEA 7th place, net commission
---
Qualifications
B.A. in Economics & M.A. in Real Estate Project Management
10 years of distinctive experience in real estate sales
---
---
---
EuV Projekte Berlin GmbH
Lizenzpartner der Engel & Völkers Residential GmbH
Joachimsthaler Str. 1
10623 Berlin
Represented by: Executive Director: Dennis Maruhn und Hendrik Treff

Contact:
Tel: +49 30 20 346 5100
Fax: +49 30 20 346 5199
E-mail: berlinprojekte@engelvoelkers.com

Register entries:
HRB 154991B District Court Berlin-Charlottenburg
Tax ID number 37/093/45059
VAT ID number. DE 294512361

Authorised supervisory authority in accordance with Sec. 34c Industrial Code (GewO):
Berlin District Office of Mitte, 13341 Berlin
Authorisation granted by the District Office of Mitte on 16.07.2014

Consumer information on alternative dispute resolution (Sec. 14 (1) ODR-VO and Sec. 36 VSBG):
The European Union online platform for online dispute resolution (also known as the "OS platform") for consumers can be reached at the following link: http://ec.europa.eu/consumers/odr/ We do not participate in dispute settlement procedures before a consumer arbitration board as laid down in the German Consumer Dispute Resolution Act (VSBG).