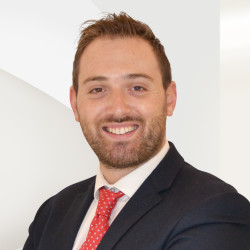 Andrea Fiorenzani
Private Office Advisor
Engel & Volkers Private Office
IT, Siena, Tuscany 53100, IT
The best sale is always the next one
I came on board the Engel&Volkers Ship in 2017 after a long work experience in the UK and it was probably the best decision of my life.
I joined a group that was still in its infancy, and I was fortunate, as well as fulfilled, to touch and actively participate in one of the most beautiful company growth and development in my area.

Initially, I knew that Engel&Volkers would provide me with a great opportunity for professional growth given the tools made available, the strong work ethic, and especially given the methodology I espoused from day one.

What I never expected is that this growth would have been enriched and even surpassed by the human growth I was able to achieve with the Team and with a good part of the clients with whom, I was able to establish a relationship that sometimes transcended the professional one.

The great enthusiasm that I put into this project and the constant support from the Team and from Hamburg, has therefore led me to achieve some of the finest sales of our agency and allowed me to be among the top 50 E&V salespeople in the World in 2020.

---
Andrea Fiorenzani, Living Tuscany Srl, company registered at the number R.E.A. SI-214527, P.IVA 01567090525 (here follows "Engel & Völkers").
The company is settled in Via Rinaldini 3, 53100 Siena and is License Partner of ENGEL & VÖLKERS ITALIA S.R.L. a company set up in accordance with the laws of Italy.
To communicate directly and effectively with Engel & Völkers, you can contact the e-mail address: siena@engelvoelkers.com.
The access, navigation and use of the website leads and presupposes the acceptance by the user of this legal notice, privacy policy and cookies.
Information on online dispute resolution pursuant to ex article 14 of the ODR Regulation

The internet platform of the European Union concerning the online dispute resolution (so-called "ODR platform") is available via the following link: http://ec.europa.eu/consumers/odr