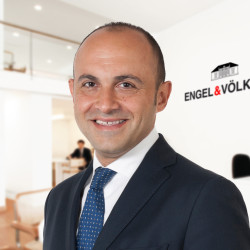 Alessandro Matarozzo
Dott.
Engel & Völkers Alba-Langhe
Alba, CN, Italia
Real Estate Agent & Licence Partner of Engel & Völkers Asti-Monferrato e Alba-Langhe
Born and raised in Turin, for the past 15 years I have lived in the Langhe, Roero and Monferrato area where I can satisfy my passion for real estate together with my team of 15 agents, with whom I manage the sale of exclusive properties, country house, commercial activities, wine cellars and farmhouse with passion, exclusivity and competence. I love meeting new people and new cultures.
---
Highlights
Commercial Property
Golf Properties
International Buyers
Luxury Homes
New Homes
Resort & Second Homes
Retail
Retirement Properties
Townhomes
Vacation Homes
---
---
---
Questo servizio è fornito da:
Stela Srl con socio unico, Registro delle Imprese di Asti n. 01622330056 - R.E.A. n. AT-130049 (da qui in avanti, "Engel & Völkers"), società con P.IVA e CF 01622330056 e domiciliata in Piazza Medici 30, 14100 Asti – Italia.
Iscritta nel Registro delle Imprese di Milano n. 01622330056. Engel & Völkers è titolare della licenza di ENGEL & VÖLKERS ITALIA S.R.L., società costituita in accordo con le leggi italiane e domiciliata in Via Larga 15, 20122 Milano.
Per comunicare con Engel & Völkers, in modo diretto ed effettivo, potrà dirigersi all'indirizzo di posta elettronica: Alba-Langhe@engelvoelkers.com.
L'acceso, navigazione ed utilizzo del sito web porta e presuppone l'accettazione da parte dell'Utente del presente avviso legale, politica di cookies e della privacy.